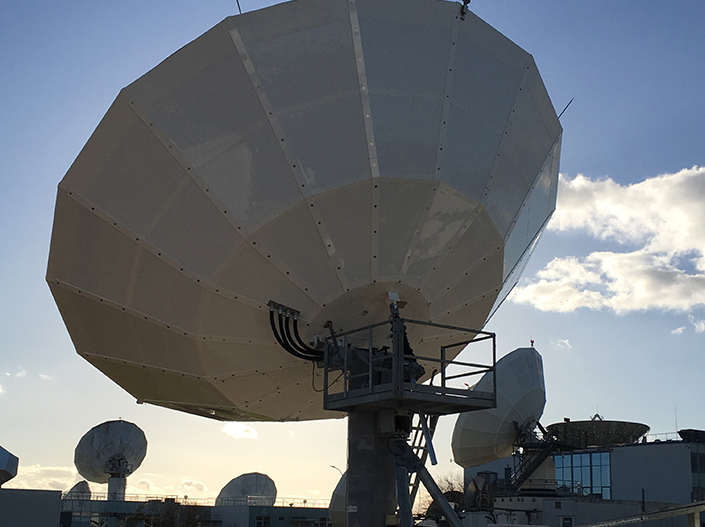 IN PARTNERSHIP WITH EUTELSAT, METRACOM CONTRIBUTES TO THE DEVELOPMENT OF THE EUROPEAN GEOLOCALISATION SYSTEM
The European Union Agency for the Space Program (EUSPA) operates the European Geostationary Navigation Overlay Service (EGNOS), a system that improves the performance of Global Navigation Satellite Systems (GNSS) such as GPS and Galileo. Within a service area that spans the European continent, it provides so-called "Safety-of-Life" (SoL) navigation services to aviation as well as terrestrial and maritime transportation. It also provides an extremely accurate Universal Time signal.
EGNOS uses GNSS measures obtained from ground-based monitoring stations which are calibrated and localised with utmost precision. This data is processed to determine the corrections that end users need to apply; the correction messages are then broadcast by geostationary satellites.
Factored into the raw GNSS signals, these greatly improve the accuracy and reliability of positioning data.

EUTELSAT recently issued a restricted procurement procedure for the design, supply and construction of ground stations at their Rambouillet and Cagliari teleports. METRACOM was naturally listed among the historical suppliers invited to bid.
METRACOM boasts its capacity to bring together the best radiofrequency engineers, and to innovate to meet the exacting technical requirements of an EUSPA programme. This claim was vindicated with the award of the EUTELSAT contract for the EGNOS GEO-3 ground stations.
That project stands as a resounding achievement, and it was only natural for METRACOM to be invited to tender again for the EGNOS GEO-4 procurement contract. Building on the substantial work carried out for EGNOS GEO-3, METRACOM was able to commit to imperative deadlines for phase 4 on an optimised budget, and was consequently awarded the contracts for the Madeira (Caniçal) and Cagliari ground stations.
METRACOM anticipates the future of the EGNOS GEO-4 project with great confidence, assured that our teams' know-how and expertise will meet the required level of performance.